You can easily add icons to your website using the icon element in the Elements category in the left content sidebar.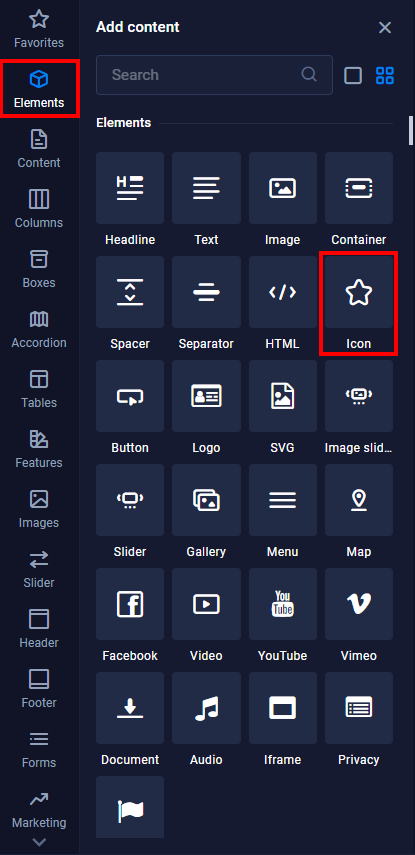 Simply drag and drop the icon element, and you can start making adjustments.
Search for a matching icon. We have integrated different icon libraries to choose from. Simply add your search term at the top and you will get results from:
IcoFont
Ionicons
FontAwesome Brands
FontAwesome Regular
FontAwesome Solid
FontAwesome Thin
FontAwesome Light
FontAwesome Duotone
If you like, you can also directly filter for a specific icon set. When you select your preferred icon by clicking on it, the Website Builder will add the selected icon as an SVG on the website (instead of loading it from the third-party provider) to improve page speed and allow the following customization options:
Appearance

Color
Background (color)
Mode
Width
Height
Padding
Stroke width
Stroke color
Overflow

Alignment

Left-aligned
Centered
Right-Aligned

Shadow

Default
None
Outside
If you like to upload your custom icon, please use the SVG element.